healthy, easy, tasty sALADS FOR YOM TOV!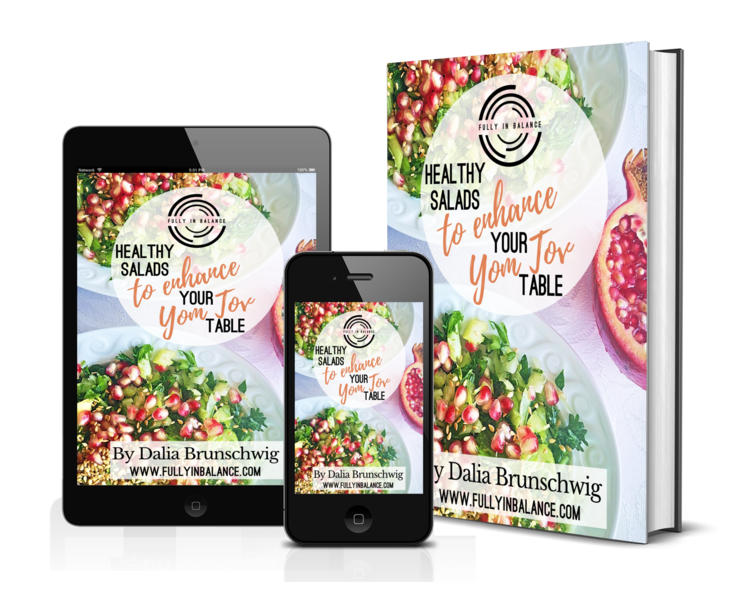 Are you tired of the same old classic salads?
Are you looking for new salad ideas to serve this
Rosh Hashana?
Are you looking for something healthier, yet still delicious?
Do you want to have a healthy balance with your food during the Seudot? 
If so, "Healthy Salads To Enhance Your Yom Tov Table"
is for you!
Dalia Brunschwig from FULLY IN BALANCE is super excited to present this ebook to you!
Now that we are finally back to school and work after a great summer break, we face busy weeks ahead. Elul is here and approaching Tishrei, a month full of beautiful Yamim Tovim and also meal preparations and hosting.
We all know how difficult it can be to stick to healthy habits during these busy weeks.
What if Dalia Brunschwig from FULLY IN BALANCE could help out with your menu for this busy time of year? 
….What if the options were healthy salads to share with your family and guests?
…. Would that help you?
FULLY IN BALANCE by Dalia presents the first E-book of Healthy Salads To Enhance Your Yom Tov Table!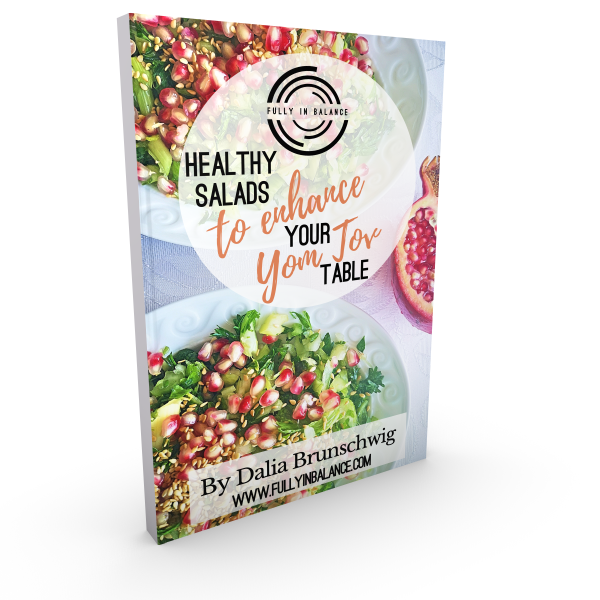 Over 30 exciting new salads
Includes classical salads & healthy dips
With illustrated pictures
Tips that will help you for the rest of your life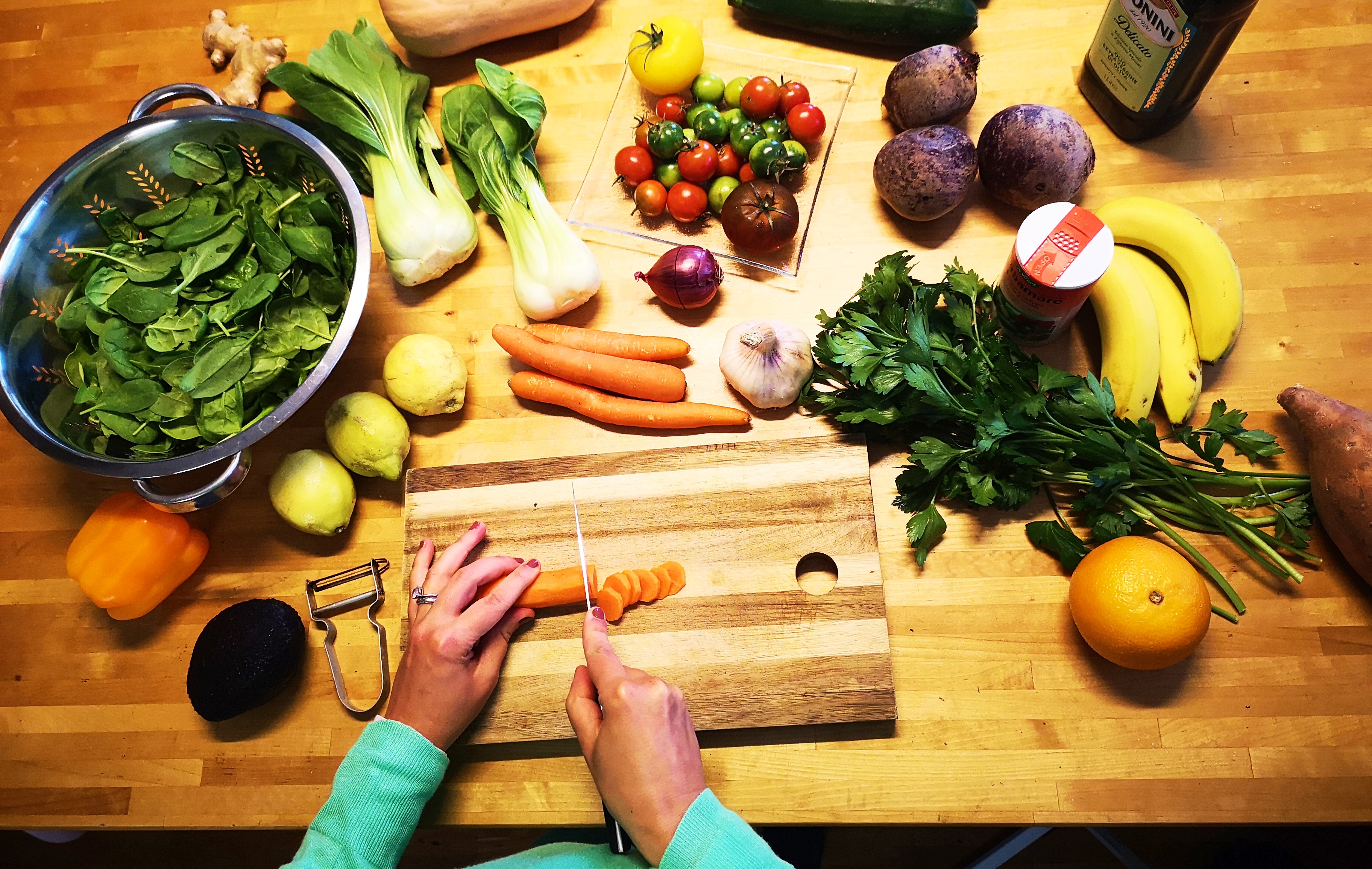 With so many Yamim Tovim in our calendar, shopping, cooking and hosting is a never ending story… what better feeling if you can serve healthy food with the right nutrients that will benefit your loved ones?
For those that have worked with Dalia, you know that she can get you started in eating healthy, keep you motivated, and connect you to new flavors and ingredients in the kosher world.
"Dalia's recipes are delicious, easy and not time consuming to prepare.
Always a nice VARIETY so it doesn't get boring"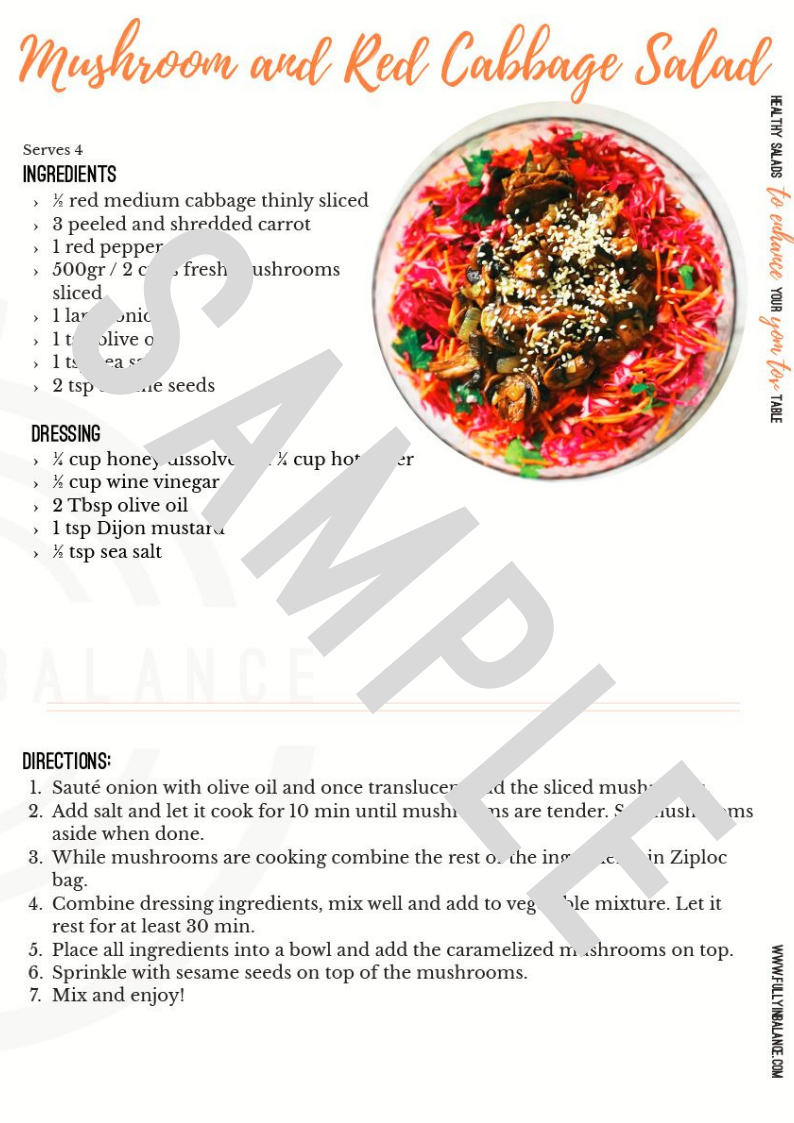 After spending many weeks since after Pesach, creating, testing and adapting delicious salad recipes, Certified Nutrition Health Coach Dalia Brunschwig has gathered together an E-book to make this Yom Tov an easier one when it comes to salads to accompany your delicious dishes, and she is here to share it with you.
You're reading this page about Healthy Salads To Enhance Your Yom Tov Table, because, like Dalia, you want to feel healthy and, like her, you want to give a healthier choice to your families and a balance with the meals when it comes to eating so many seudot.
The idea of creating this salad recipe book came about as many clients, after completing her 4-week program were asking for ideas on how to replace this and that to make their favorite dishes and always claimed that the hardest time to keep on track on their healthy journey is Shabbos and Yamim Tovim.
how was this
e-book born?
Dalia Brunschwig  is always looking for new kosher healthy products as well as how to use them to help her clients in the best possible way.
After trying many recipes that will taste delicious and will also give the best nutrients to her family, Dalia decided to start a series of E-books with her favorite foods that are not part of her programs. Starting with healthy salads
Dalia's recipes are tried and true, many requiring basic ingredients. Her stated goal is not per­fec­tion, but rather new ideas for the coming Yamim Tovim with com­fort and love in every bite.
She fully understands the lifestyle of the busy mom and often works with whatever ingredients happen to be at hand.
PDF E-BOOK
Healthy salads to enhance your Yom Tov Table!
You will get an email with link to download.

Full 50 pages E-book recipe book with all recipes.

 PDF for you to print at home.

 35 recipes with colorful images.

 Enjoy it!

NOTE: Possibility to order hard copy for ZURICH ONLY for an extra CHF 16.00 if we reach the minimum amount to order. You will get instructions how to order after your have purchased your electronic copy.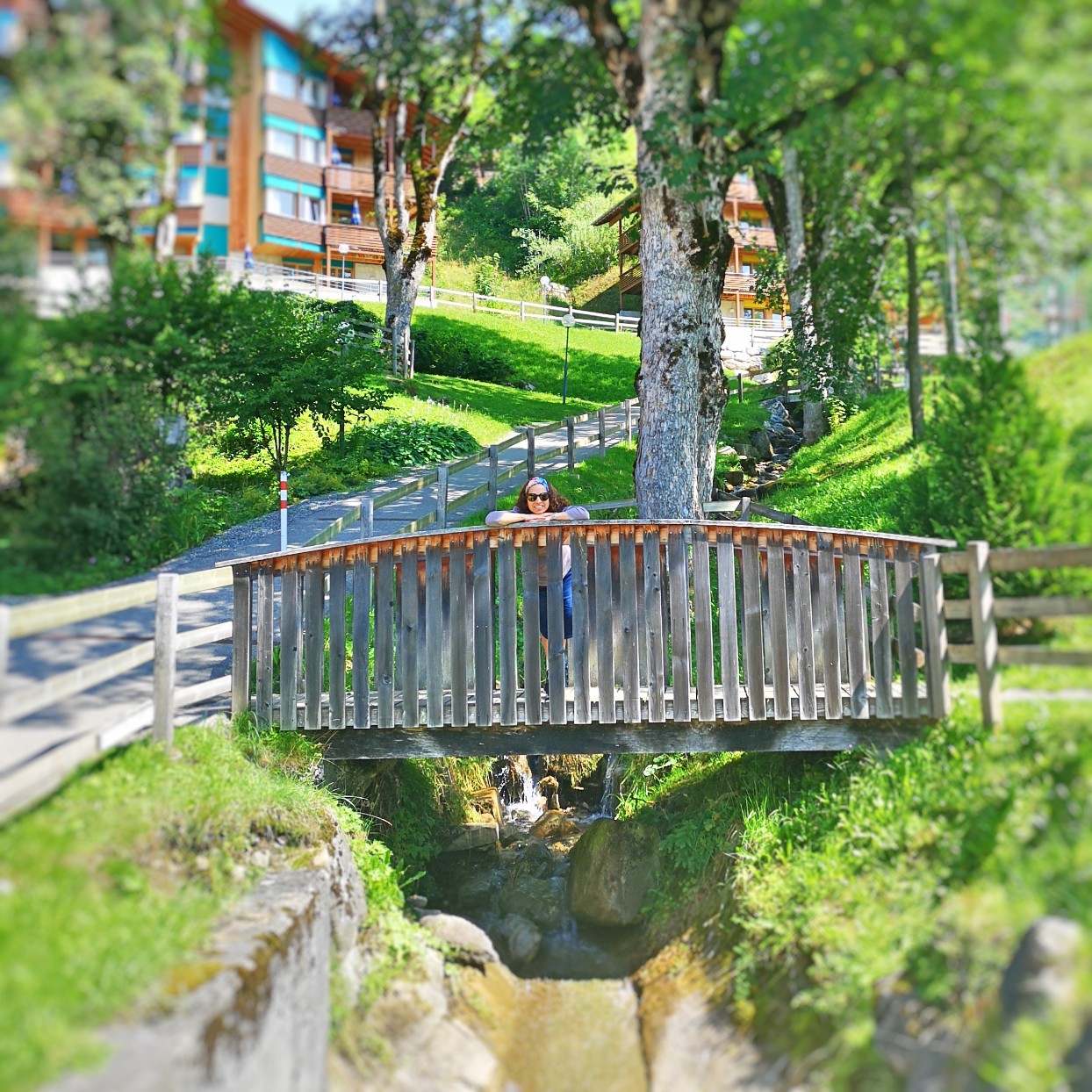 I'M DALIA
An integrative Nutrition Health Coach, founder and created of FULLY IN BALANCE GmbH.
As a busy mum, I provide insight into natural healthy healing, via one-on-one private sessions or a group coaching, always factoring in that no one size fits all and taking into account the kosher diet locally in Zurich or internationally.
Through my training, experiences as well as my personal struggles and successes I carry out my passion to help YOU reach your unique goals, by imparting customized resources, health awareness, tools and the confidence to build and maintain healthy dietary, exercise and lifestyle habits.
LET ME HELP YOU BY BEING YOUR GUIDE TO A HEALTHIER LIFESTYLE!                                                                    Dalia Brunschwig
CONTACT ME FOR QUESTIONS
Start taking care of yourself today!